American Saffron from Baar Products Works Wonders
Welcome to my review on American Saffron from Baar Products.
Baar Products specialize in  health. Their company has many products that help people heal their problems away.
American Saffron is the same tea that Dr. John Pagano Recommends in his book Healing Psoriasis. And is the same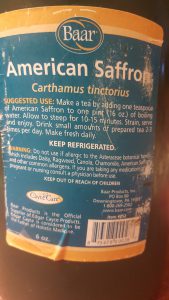 tea that Edgar Casey recommends for a clean system
American Saffron is a great detoxifying tea that seeps toxins from the body. It cleanses the digestive and intestinal tract very effectively. It also keeps the passageways clean for the proper elimination of toxins.
As a user of American Saffron, I must say that I am very impressed with the product.
American Saffron comes in the mail in a tightly sealed bag. Upon opening the product I could tell right away that the contents are fresh.
The product smells fresh and looks fresh. American Saffron is reddish orange and it looks and feels moist to the touch.
After simmering water and seeping the tea. The taste is quite pleasant by itself and with no added ingredients. However my girlfriend still likes things to be sweet so she adds a little bit of honey and lemon which makes her taste buds dance.
I still drink American Saffron a few times a week even though my psoriasis condition has cleared up 100%.
Here is the link for American Saffron tea at Amazon.
If you haven't read "The Do List" and "The Don't List" on this website, go back to the main menu and read that content now. The other content will help you cure psoriasis, and understand WHY the "The Do List" and "The Don't List" are so important. Understanding the WHY will help figure out HOW to cure psoriasis that much easier.
Also read the homemade recipes for psoriasis section of this website. If done in conjunction with The Do List and the Don't List, it will help you cure psoriasis naturally and will also help you maintain beautiful skin thereof.
Thank you for reading this part of my website. Feel free to leave me a comment or question below. I will respond.