Apple cider vinegar is made by crushing apples with yeast. This ferments sugars into alcohol.
Mother probiotics aka good bacteria is added, which ferments the alcohol into acetic acid. Acetic acid is the popular active compound in apple cider vinegar. And debatable what gives it most of it's super powers.
There are many reasons to use apple cider vinegar for psoriasis. In this article, I will discuss the main three reasons why. One: apple cider vinegar is anti-inflammatory. Two: apple cider vinegar removes toxins. Three: apple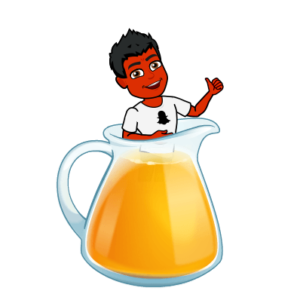 cider vinegar has nutrients.
Apple Cider Vinegar Fights Inflammation
Acute vs chronic.
Acute inflammation aka short term inflammation is thought of as healthy inflammation because it is turned on when the body is suddenly damaged or imperil, such as injury or infection.
Acute inflammation serves to exterminate toxins, bacteria, and other foreign molecules when it is needed. And it deactivates when its services are no longer required. It will activate to do its task and then it will stop when it has completed its task.
Chronic Inflammation aka long term inflammation is the opposite of acute inflammation. It can be known as very troublesome.
Chronic Inflammation is a warning sign because it's a symptom of something amiss, something very wrong. It is red, nasty, and very annoying, it likes to cause trouble; and doesn't seem to be doing anything except making itself known, this can cause hundreds of conundrums in the body.
It starts a domestic fight with the body's own tissue and doesn't stop, its just there causing violence. Chronic inflammation will continue to be activated because something in the body is causing it to react this way. Something is keeping chronic inflammation activated. Chronic inflammation will cause extreme problems if it is not dealt with.
The number one reason to use
apple cider vinegar for psoriasis is it counters chronic inflammation by the way of alkalizing.
Over eating highly acidic foods can cause the body to be inflamed.
Apple cider vinegar has an acidic PH, but it still alkalizes.
And even though the body's PH self regulates with almost flawless balance.
ACV still helps regulates acidity by allowing PH buffering. This counters extreme acidity with alkalization. Tweaking and restoring , and finely tuning the proper PH balance thus helping to control body inflammation.
Psoriasis, which is inflammation of the skin, is caused by inflammation of a leaky gut mostly.
There are many reasons on why the gut is inflamed and leaky. To learn the main reasons why click here.
Apple cider vinegar promotes gut healing and anti-inflammation by pampering good bacteria.
Good bacteria also known as probiotics utilize prebiotics. Prebiotics can be developed from many foods especially apple cider vinegar.
Apple Cider Vinegar Removes Toxins
Also, used as a detox. Apple Cider Vinegar is well-known for removing toxins.
For thousands of years it has been utilized in many health related ways. Even in 400 BC, the famous Greek physician Hippocrates promoted its use.
Think of apple cider vinegar as an internal body cleanser. A healthy acid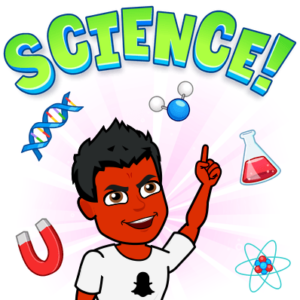 that scrubs the digestive track as well as the liver.
The liver, (the body's filter), its main job includes filtering blood exiting the digestive tract, then passing it to the rest of the body, could use a good flush now and then. Just as one would clean their air conditioner filter or shower filter.
The acid found in apple cider vinegar binds to excessive toxins in the body and removes them. Promoting healthy circulation and a detoxified liver.
Apple Cider Vinegar Has Nutrients
ACV has an extreme concentration of nutrients that is beneficial to the body. A lack of certain nutrients can cause certain ailments including skin problems.
Here are some of the goodies that are present in one of the best Apple Cider Vinegar brands you can buy. Bragg Organic Raw Unfiltered Apple Cider Vinegar.
Acetic Acid: Is a natural antimicrobial. Produced by good bacteria during fermentation. It fights fungal and bacterial infections. Acetic acid increases the body's ability to digest protein faster and break it down into amino acids quicker. This helps ensure an efficient metabolism and discourages a lacking one.
Probiotics: Healthy bacteria or friendly bacteria. Call it what you will. It helps break down food in our guts and promotes a more effective digestive system.
Braggs Organic and Unfiltered Apple Cider Vinegar contains strands of  friendly bacteria called 'Mother,' one of the top stands around.
C vitamin: Discussing the top vitamin on the planet. Vitamin C can do the extreme. Reversing inflammation is indeed a under rated trait. But mainly, vitamin C act's as an electron giver.
The vitamin C found in apple cider vinegar can not only prevent disease, but it can also reverse disease too. This happens because vitamin C donates
electrons to free radicals.
But why donate electrons to the enemy? Because, by giving electrons to the free radicals, they now hold all they can carry. This hinders them from stealing electrons from other sources.
B vitamins inside apple cider vinegar can regulate inflammation.
B6 vitamin: is an ingredient that is also put into anti-inflammatory drugs. These medicines are issued by physicians to control inflammatory diseases.
B1 vitamin: also known as thiamine, which is also found in liver and beans has been known to promote nerve inflammation if deficient. So luckily it's present in ACV.
B2 Vitamin: according to the internet's PubMed, the US National Library of Medicine, B2 vitamin or Riboflavin "deficiency induces a pathological pro-inflammatory response."
B3 Vitamin: Also known as Niacin promotes skin and digestive health which is extremely relevant when dealing with psoriasis. Live Science quotes the University of Maryland Medical Center. "Severe niacin deficiency can cause inflamed or flaky skin."
B7 Vitamin: Also known as biotin is found in many food sources. It promotes healthy skin and digestive system, which is ideal when combating inflammation and psoriasis.
B9 vitamin: Also known as Folic Acid or Folate. Helps the body make healthy new cells and not unhealthy and inflamed flaky old ones. Especially important for prenatal and postnatal brain and spine development.
Apple Cider Vinegar Has Minerals
The main difference between vitamins and minerals is vitamins are
organic. And minerals are inorganic.
Because vitamins are organic they originate from animals and plants.
Minerals are inorganic solids and originate from earth and soil but are acquired through animals and plants. Both are natural occurring.
Vitamins can be broken down further from their current chemical
compound. Heat, air, acid and the reaction to other compounds ensure the
chemical break down possible. Edible minerals can't be broken down any
further because they exist as an element (simplest form of substance) and not a compound (combination of two or more elements in a well ordered, natural occurring chemical structure).
The essential minerals are basically a few raw elements on the periodic table. Also, known as dietary elements or dietary minerals.
Like some vitamins, some essential minerals are perfect in just trace amounts of consumption. And similar to some vitamins some dietary elements are more beneficial if consumed in a more generous amount.
Granted also, another similarity some dietary minerals share with vitamins is the ability to be stored in the human body.
Dietary Minerals Present in Apple Cider Vinegar Counter Inflammation
Iron – Trace amounts are good. Deficiency = inflammation.
Magnesium- Abundance is good. Deficiency = inflammation.
Calcium – Battles obesity. Fatty cell common with psoriasis.
Phosphorus – Filters waste and toxins.
Sodium – Trace amounts needed for fluid balance.
Potassium – Flushes excessive sodium reducing inflammation.
ACV Fights Many Ailments
– Osteoporosis
– Obesity
– Cramps
– Pain
– Hypertension
– Arthritis
– Psoriasis
– Aging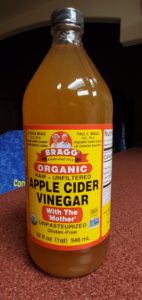 – LDL
– Acne
– Shingles
– Insect bites
– Dandruff
– Vaginitis
– Hyperglycemia
– Diabetes
– Gastroparesis
– Sunburn
– Sore throat
– Other Body Inflammations
-Candida
How to Use
– Teaspoon consumed orally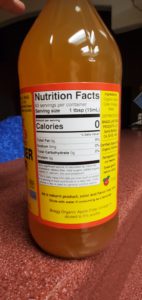 in the morning
– Teaspoon consumed orally before meals
– Tea spoons in drinks
– A quart in the bathtub
– May be used as a topical ointment
-Infinite Recipes
What We learned in "Apple Cider Vinegar for Psoriasis" Article
Apple Cider Vinegar is excellent for fighting body inflammation. This includes skin inflammation which is psoriasis. Incorporating apple cider vinegar in our daily routines will help serve in curing psoriasis and other inflammatory diseases.
Here is a link to some Bragg Organic Raw Unfiltered Apple Cider Vinegar.
---
Scope my "The Do List" and "The Don't List" on this website, go back to the main menu and learn that content now.
The other content will help you
cure psoriasis, and understand WHY the "The Do List" and "The Don't List" are so important. Truly understanding the WHY will help you figure out HOW to cure psoriasis that much easier.
I have just taught you about the benefits of apple cider vinegar. If done in conjunction with The Do List and the Don't List, it will ensure that you cure psoriasis naturally and will also help you maintain beautiful skin indefinitely
---
It is packed with rich information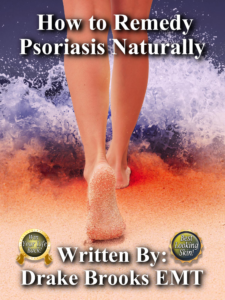 on things to do, "The Do List" and things not to do, "The Don't List," on how to remedy psoriasis naturally.
Own a personal downloaded copy in a simple and easy to navigate interface. Portable and accessible eBook reader app like Kindle, Apple, ePub and PDF, are some examples in which this book can be read.
Read on or off-line however you choose. No internet connection no problem.
If you do decide to help me out and purchase my eBook How to Remedy Psoriasis Naturally, it would be much appreciated. Profits will help me maintain and continue to add important content and recipes to this website.
---
Thank you for reading "Apple Cider Vinegar for Psoriasis." Feel free to leave me a comment or question below. I will respond.
---